Daily Archives:
Wednesday, June 22nd, 2011
Welcome to Summer!
Summer officially started on Tuesday at 1:16pm, when the Sun was directly over the Tropic of Cancer or the farthest north point the Sun ever reaches.  Although the Sun never directly shines overhead anywhere in Florida, the intensity of the sunlight is greatest this week.
With this occasion, tonight I will be looking at the Summer forecast for the Sunshine State which includes the Florida rainy season, our second tornado season, and the beginning of Hurricane Season. I will define Summer as the rest of June and the entire months of July and August.  Although the Climate Prediction Center (CPC) also includes September into their forecasts, I have decided not to include September because of the difference in climatology here in the state from June-July-August to September-October-November.  I will be using CPC information during the entire rest of the post along with my own thoughts.
Also, I will take a look at the developing wet weather situation coming up during the next few days.
Temperatures
Overall, temperatures across Florida should be above the average for the last 30 years. We are now out of La Nina and into Neutral conditions, but La Nina's effects will linger for a few more months. For Florida, La Nina usually brings average to slightly above normal temperatures in the early summer.  This combined with the extremely dry conditions across the southern half of the United States will enhance the chances of a warmer summer. We have begun to see that over the last few weeks, and I expect it continue for a month or two.  Beyond that, with a slow drift to El Nino and less high pressure ridgedness, a return to normal conditions may appear.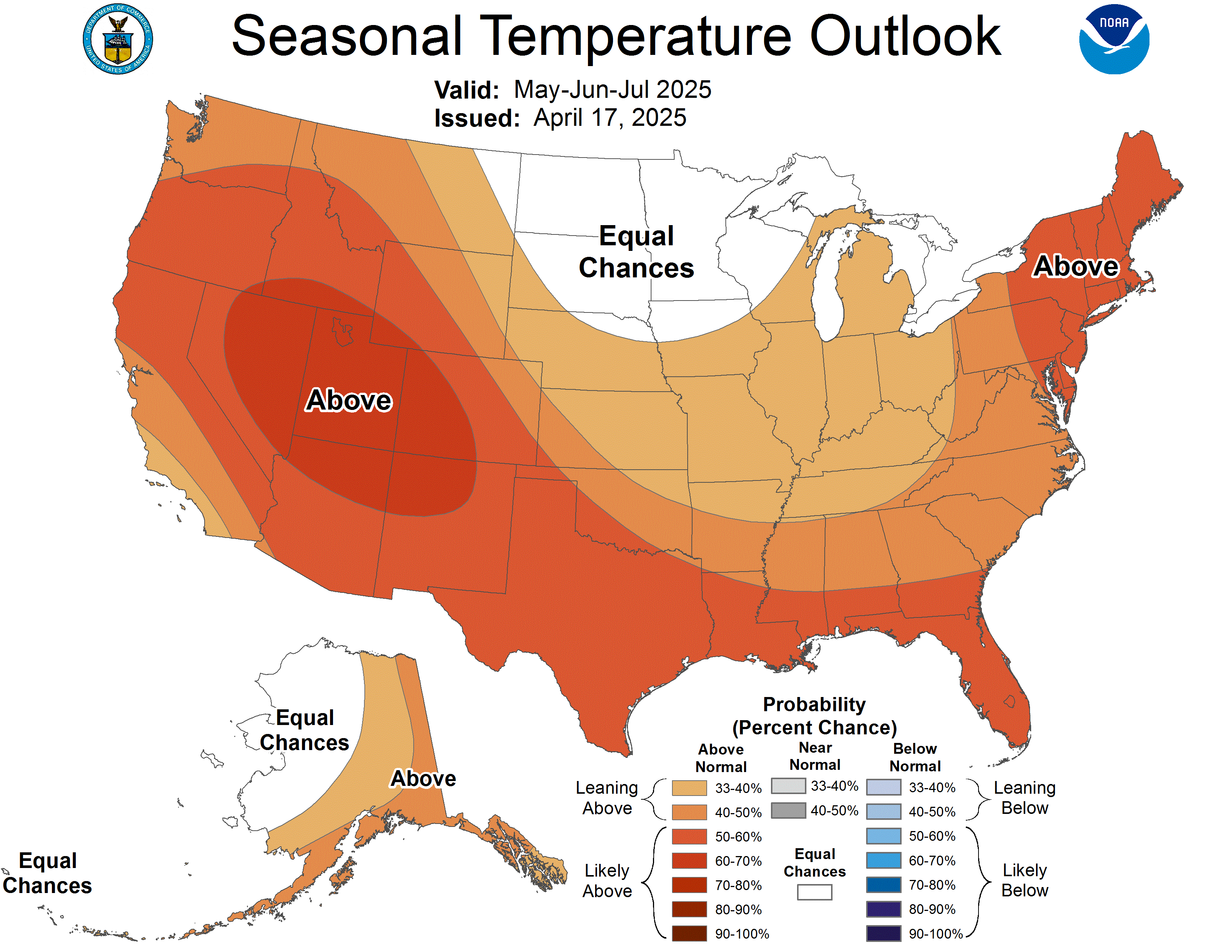 Precipitation
A multitude of atmospheric and oceanic conditions currently existing lead me to believe that the summer will be slightly wetter than average.  Firstly, Hurricane Season 2011 is expected to be more active than usual, and impacts closer to home than the last few years. Tropical systems of any strength bring inches of rain to wherever they may impact in one shot.  Sea Surface Temperatures, the fuel to our daily thunderstorms, are at or above normal right now not only in the Gulf, but also across the Atlantic. Although our rainy season has been late this year, I do expect it to be in full swing within the next week or two.  Our fire season will extend into July this year, but how far will depend on how much rain will fall during those next few weeks. What we really need are a few days of storms with limited lightning impacts.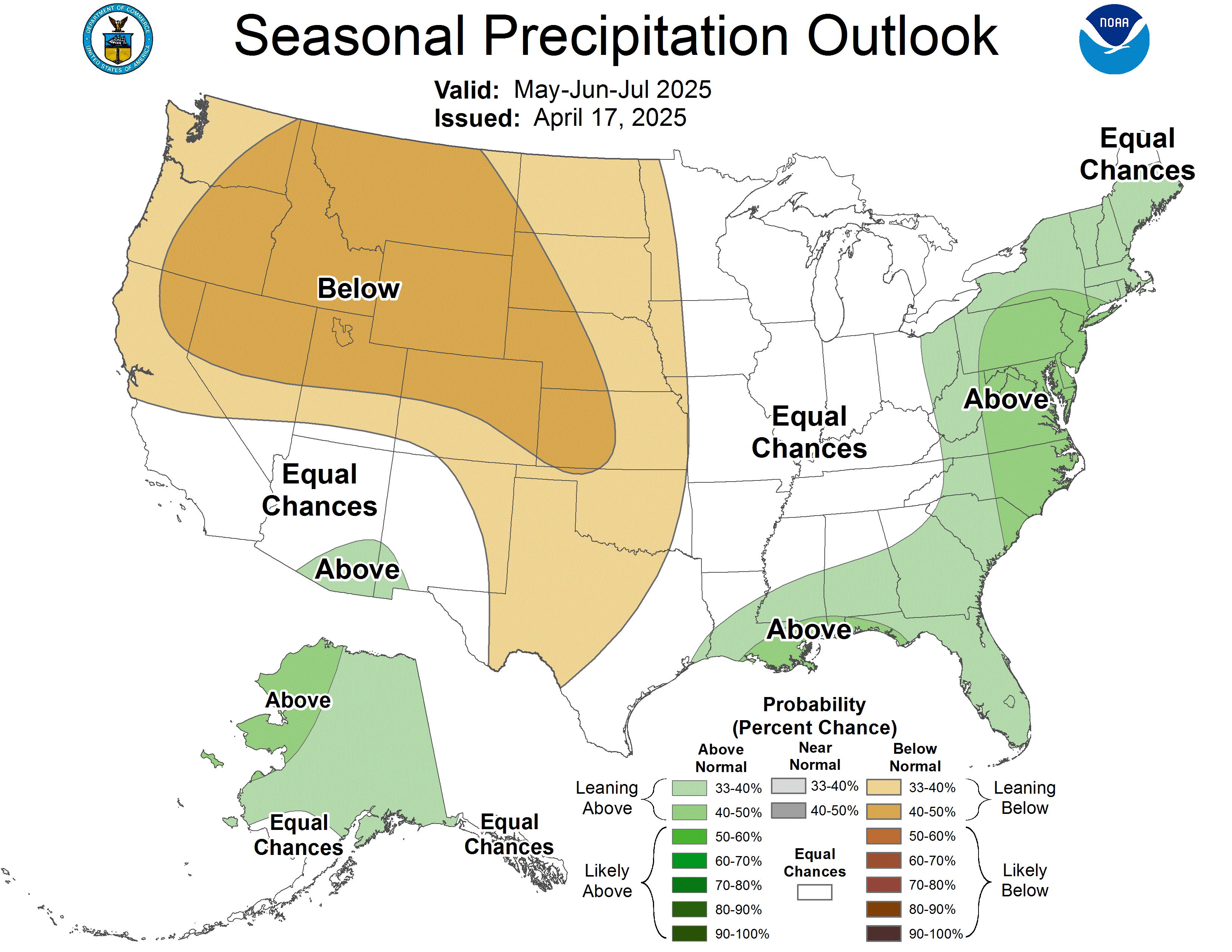 The next few days
The models continue to imply a very wet few days. I think that almost everyone will see a half inch of rain from whatever develops.  I do think that the time frame has shifted a little bit farther back, to between Thursday and early Saturday. I did not see any models trying to bring any front of any kind into Florida today as I did yesterday, but I was pleased to see a few bands of rain develop over Louisiana today from the Gulf ahead of the front. This to me is a sign that the western Gulf is soaked with upper and mid-level moisture that is ready to come down. Beatriz has since yesterday dissipated, but not before it spread a lot of moisture over central Mexico, which will be moving east into the Gulf.
All in All, I expect everyone to see rain during the next 4 days to see at least some rain, but I do not expect any washouts or all day events. Rain chances will be 50-60% over the western Panhandle and Central/South Florida, and 40% elsewhere.
Above, I added the maps from the CPC in regards to temps and precip.  On the left hand side, I added the link to the list of counties that have banned fireworks including July 4th weekend to the current notices.  Soon I will be changing the Meteorology Mumbo word and updating the About Me section. Keep checking back for those, and thank you for helping me reach 1,000 views!
For now, I wish you all a safe summer, and I want to send a shout out to the families of the two firefighters of in Hamilton County fighting the Blue Ribbon Fire who lost their lives.
Have a great Wednesday!